ABOUT COMPANY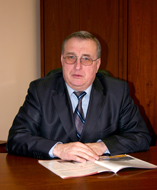 LLC «BUDYVELNYK–3» is the general contractor in the construction and design of contemporary underground utilities.
The main activities of LLC «BUDYVELNYK–3» are:
– complex design of internal and external engineering communications;
– construction and installation of trunk cable lines;
– building of installations of water supply and sanitation;
– reconstruction of existing pipelines with diameters and increasing their capacity;
– reconstruction and repair communication lines and power supply;
– general construction and other excavations;
– transport services;
– rental of machinery.
A consistent leader and head of LLC «BUDYVELNYK–3» is its founder Peter S. Yurchenko. He assembled a highly qualified team of associates that can solve the problem of modern building. He formed a strong production base of the company.
One of the first objects in which LLC «BUDYVELNYK–3» take part is the construction of international and intercity lines. In particular takes part in laying the territory of Ukraine international fiber–optic communication lines ITUR (Italy, Turkey, Ukraine, Russia), built a national fiber–optic network in Ukraine for the primary network management «UKRTELEKOM» in Vinnytsia, Ternopil, Khmelnitsky, Chernigov and other areas.
Much attention is paid to the enterprise practical application of advanced technology and equipment of modern technology. In particular for the construction of cable experts LLC «BUDYVELNYK–3» one of the first in Ukraine which mastered and applied in practice trenchless cable laying using American cable laying machines VERMEER RENEGAT P185. On track for straight sections (soils 1–3 category), in the absence of significant intersections of underground utilities, American cable plows provide the highest speed laying – up to 10 km per shift to a depth of 1.8 m.
This technology made it possible to increase the volume of construction of 1000 km lines per year. Over the last few years now is built:
– fiber optic line «Odessa – Belgorod–Dniester», «Vapniarka–Tulchin» (2009);
– fiber optic line «Kherson – Kalanchak», «Novgorod Seversky–Skytok (Hornostaevka)» (2008);
– fiber optic line «Kyiv–Odessa–2» (2007);
– fiber optic line «Lutsk–Ternopil», « Vinnitsa–Uman», «Uman–Kirovograd» (2006);
– fiber optic line «Zhitomir–Vinnitsa–Sharhorod», «Rivne–Khmelnytsky–Dunaivtsi» (2005).