Reconstruction and reorganization of engineering utilities during the construction and repair of roads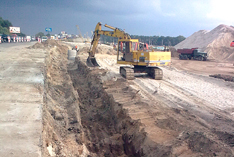 Since the beginning of construction to the reconstruction, roads are are "overgrown" by different types of communications: underground cable lines, overhead power supply lines, ground and underground pipelines, etc. These services are placed in the band diversion of road or at a certain distance from it, but quite often they are located directly within the body of roadbed. During the construction, reconstruction and repair of roads, considerable attention is paid to special works on the transfer and reorganization of FOCL and other communications. To perform this type of work special organization are involved, who possess adequate experience and provided with necessary equipment. Among these organizations are LLC «BUDYVELNYK-3».
LLC «BUDYVELNYK-3» performs all works on reconstruction and reorganization of existing overhead, land and underground utilities. For this purpose, the company uses its own machinery and mechanisms: highly productive trenchers, excavators, bulldozers, dump trucks, etc. All work is performed in accordance with project documentation and on a separate schedule agreed with the customer. «UKRAVTODOR» for many years use the services of LLC «BUDYVELNYK-3» by rearrangement of engineering utilities during the repair and construction of roads in Ukraine. In particular, during major repairs of roads «Kyiv-Odesa» LLC «BUDYVELNYK-3» has reorganized more than 250 km of copper and fiber optic cable lines.
Upgrading and sanitation of water supply and sewerage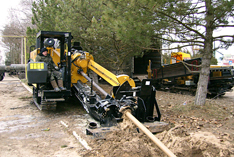 LLC «BUDYVELNYK-3» performs rehabilitation and upgrading of existing pipelines by trenchless and open (traditional) methods. LLC «BUDYVELNYK-3» laying new pipes in place of the old pipe using HDD equipment. It is possible to increase the capacity of pipelines by 1.5 times. The material of the old pipe can be anything: steel, cast iron, concrete, plastic, a new material - steel, polyethylene. The length of each cycle can be up to several hundred meters with diameter of the old pipeline from 100 to 600 mm. There is no need to involve any earthmoving machinery. One only needs two foundation pits or wells.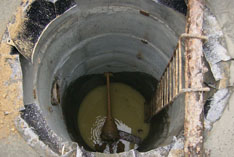 Through first foundation pit (well) HDD equipment delivers rods. In the output of the second - to the rods attached special extender and connect the new plastic or steel pipe. Then HDD equipment tightening extender crush the old pipe and simultaneously lays on its place new one. In the urban environment by increasing the diameter of the old pipe this technology can increase the capacity of water supply and sewerage without laying new communications and deeper disclosure of streets. It provides significant savings of time and money because there is no need to restore pavement of streets and the forest park zones.
The rearrangement of overhead and underground power cable lines
In modern cities and their beyond occurs large-scale construction of new buildings and neighborhoods, the number of street lighting, industrial plants, shopping centers, etc., are increased. This increases the load on the existing electrical grid. To ensure reliable and uninterrupted electricity, LLC «BUDYVELNYK-3» working for the rearrangement of the existing and construction of new energy networks in cities and beyond them. Performs reconstruction of overhead and underground cable lines with more powerful ones. The company performs installation of transformer substations, fittings and electrical cable lines. Works are carried out without disturbing the existing infrastructure and communications.