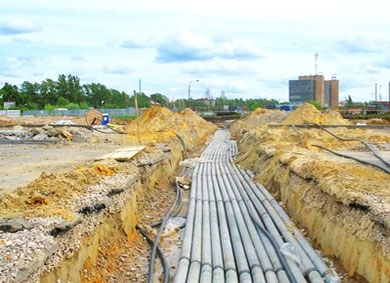 Our land is not only settles scores with the man, but also with all our work. Laying of pipelines using the HDD method - this is probably the best example. Everyone knows that in order to repair or restore a small segment of the pipeline, you need to spend much more capabilities than during their original construction.
The reasons that lead to repair the pipeline, are several. The first reason - it pumped liquid, which contains impurities which are themselves hard deposits (inlays) that are deposited on the inner walls of the pipes. At the same time their bandwidth is lost and if the refurbishment of the pipeline are not carried out in time, it may simply fail.
Our company uses various methods of repair and restoration of pipelines: from the traditional to the most recent of the highest technology. New trenchless technologies during the repair and restoration of the pipelines are the most relevant and rational.
Excellent microbiological properties, the highest strength and resistance to mechanical stresses make cement-sand covering indispensable during construction of pipelines, which are designed for urban water systems.
In most cases, you can apply unique technology of repair pipelines, which lies in the fact that the inside of the failed metal pipe held new plastic pipe. If we apply this technology, the internal diameter of the pipe will decrease. It is worth noting that if the hydraulic capacity is reduced, the overall characteristics of the pipeline are not substantially changed.
More dangerous is the rehabilitation of the pipeline, which resulted in the old pipe can be destroyed, and in its place a new one (plastic or steel) should being set. In this case, the diameter of the new pipe may be at 1.5-2 times bigger.
Teleinspection diagnosis is the final stage of pipeline repair. Only in this way after the repair can be estimated actual quality rehabilitation of the pipeline and get rid of the existing defects. This diagnostic method is used during the construction of pipelines. Because the quality control, which is performed by a remote controlled TV camera, helps to eliminate many defects at an early stage construction of the pipeline.
Through the use of directional drilling technology we are able not to stop the traffic during underground utilities laying.